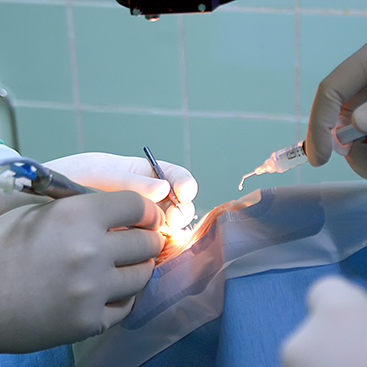 Anesthesiology:
Anesthesiology is the medical specialty that focuses on the administration of anesthesia and pain treatment.

General and Vascular Surgery:
General surgery is a surgical specialty that focuses on abdomen and vessels.

Neurosurgery:
Neurosurgery is surgery performed on the nervous system, especially the brain and spinal cord.

Orthopedic Surgery:
Orthopedics is the surgery that focuses on injuries of the musculoskeletal system and the replacement of joints and prosthesis.

Ear, Nose and Throat:
Otorhinolaryngology is a surgical sub-specialty that deals with ENT conditions.

Pediatric Surgery:
Pediatric surgery involves the surgery of fetuses, infants, children, adolescents, and young adults.

Ophthalmology:
Ophthalmology is concerned with the diagnosis and treatment of disorders and eye diseases. We provide the services of retinal surgery, cataract surgery, and laser surgery.

Urology:
Urology focuses on male and female urinary tract system, and male reproductive organs. We provide the services of open and laparoscopic surgery, endo-neurology and renal stone disease by laser lithotripsy.